NASA Local Post (NLP) and Space City Cover Society (SCCS)

Apollo-Soyuz Test Project Souvenir Sheets
There are two different types of souvenir sheets for the Apollo Soyuz Test Project.
Both are horizontal format, printed bi-color, and each contains nine 6 cent locals.
There is an inscription at top and bottom of the sheet. ASTP-1-NLP illustrates the
ASTP emblem and ASTP-2-NLP illustrates the Apollo spacecraft and Soyuz spacecraft
in a docked position.
First Manned International Space Mission (Soyuz Launch/Apollo Launch)
Catalog Number: ASTP-1-NLP
Chronological Number: 77
Issue Date/Circa: 1975/07/15
Original Purchase Price: $0.60
Reference Documents: Document-105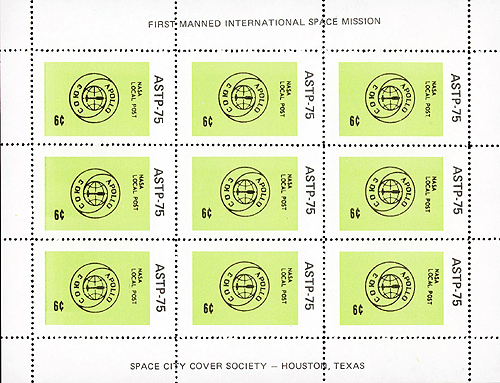 First Manned International Space Mission (Docking in Space)
Catalog Number: ASTP-2-NLP
Chronological Number: 78
Issue Date/Circa: 1975/07/17
Original Purchase Price: $0.60
Reference Documents: Document-105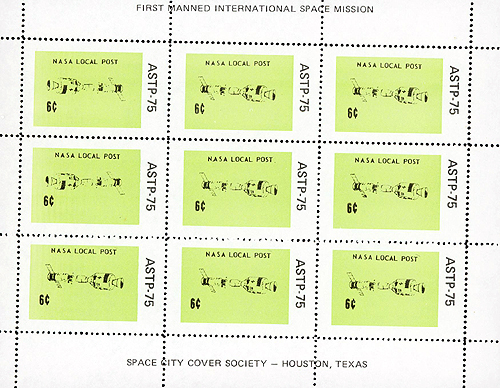 Return to Stamps Menu
Return to Main Menu